Approach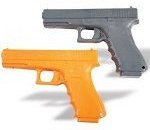 One of the questions you're probably wondering is why we focus just on case studies? The answer is that we believe that case studies are one of THE most potent marketing communications tools available. After all, the best advertising is a satisfied customer. And yet customer success stories and business testimonials remain one of the most under utilised weapons in the marketing communications arsenal!
The main reasons that people fail to gain the maximum benefit from case studies are:
| | |
| --- | --- |
| | |
| | They take too long to get approved - BUT this is because there is not sufficient planning and preparation |
| | They are written like brochures - BUT this is because their real purpose (to highlight benefits, not features) is not fully appreciated |
| | They are not credible - BUT this is because they are written in "glowing" terms and do not represent the truth. |
Our firm belief is that case studies should fulfil the role of a surrogate site visit. In other words, they should represent the same things - good and sometimes bad - that a customer would say to another company. They should also be written, as much as, possible in the customer's own words - to make them believable and readable! And, like a site visit, they should never be foisted on the customer without fair warning!